Foot complaints hinder athletes
In addition to Medical Pedicure, I am also a certified Sport Pedicure. Various groups of athletes have to deal with foot complaints, ranging from trauma nails and fungal nails, to calluses, blisters and corns. Regardless of the level at which athletes are active. foot complaints can significantly hinder performance. Research shows that more than half of the athletes suffer from one or more foot complaints, with some sports this even reaches 80 or 90 percent. These complaints can be annoying and hinder performance. Often, foot complaints worsen as athletes continue to go through longer.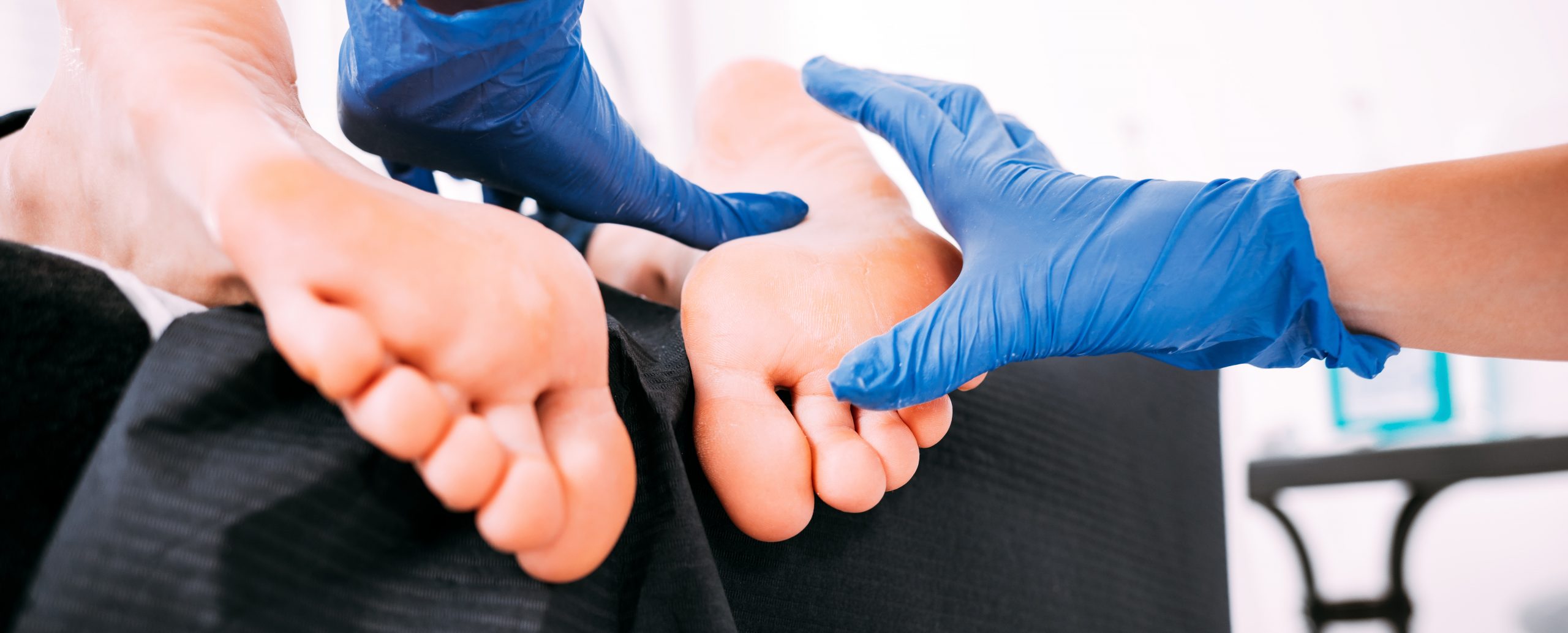 Complaints
Among soccer players, runners and (kick) boxers are trauma nails (damaged toenails) the complaint that is most often signalled. For tennis players, golfers and volleyball players, callus is at the top of the list. Hikers most often struggle with blisters, a disease that also scores high among runners. Over three quarters of the pedicures see gym visitors suffer from fungal nails. Other complaints that athletes experience include corns, fissures, broken skin and warts.
Causes
Dangers of sport itself, with the exception of martial arts, play a subordinate role with respect to traceable causes that determine pedicures in athletes. In some sports, poor maintenance of sports grounds or fields plays a role, but the most frequent causes of foot complaints are intensive or long-term workload. Long locked in shoes, often too narrow in fit. Prolonged warm and moist feet. A lot of friction and pressure (by speed and jump / landing). Wrong shoes and insufficient care of feet and toenails. It is precisely in that area that the added value of the Medical Pedicure lies.
Medical Pedicure Esther Amsterdam can play an important role in keeping feet healthy and treating complaints, especially preventively. For example, I give personal advice on the purchase of correct footwear and foot care. For example, not all athletes are equally familiar with the benefits of pedicure treatment.
Which problems do I often encounter at sports feet
Blue nails
Growing nails
 Torn nails
Gap formation on the heels
Hyperhydrosis (sweaty feet)
Blisters
Corns
Fungal infections
What can Medical Pedicure Esther Amsterdam mean for you
Prevent foot care and thus perform better
Foot care advice
Pressure relief during exercise (temporary)
Definitive removal of fungal nails by means of the renewed PACT® Fungal Nail Therapy
(see tab at the top of this website)
Opening hours
Mo., Tue., Thu. and Fri.: 11:00 am – 06:00 pm
Make an appointment with Medical Pedicure Esther Amsterdam
Use the online booking module to make an appointment.
If it is not possible to schedule an appointment for this month, then the online calendar is fully booked, then click with the arrow to the right to go to the next month.
If you are in doubt about the treatment to choose, then choose the "basic treatment".
You will always receive a confirmation by e-mail, please read this carefully, if this confirmation does not end up in your inbox please check your "junk mail" or "unwanted messages". This confirmation comes as soon as you have completed the appointment. If you do not receive confirmation, please send another e-mail, and I will check it for you.

If you choose to make an appointment, you automatically agree with the privacy policy (Dutch) and disclaimer (Dutch).
You can cancel free of charge up to 24 hours in advance (see confirmation in your inbox).